April/2022 Latest Braindump2go AZ-120 Exam Dumps with PDF and VCE Free Updated Today! Following are some new AZ-120 Real Ezxam Questions!
QUESTION 150
Hotspot Question
You have an on-premises SAP landscape and an Azure subscription that contains a virtual network named VNET1. VNET1 has the following settings.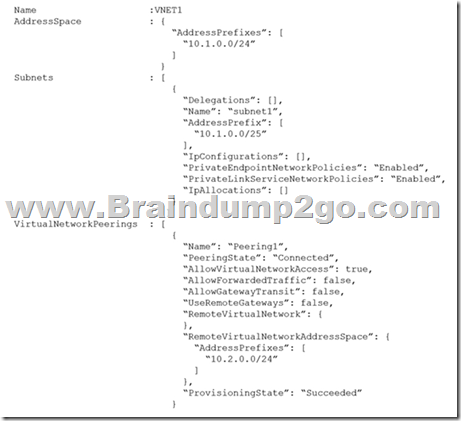 You plan to migrate the landscape to Azure.
You need to configure VNET1 to support the SAP landscape.
Use the drop-down menus to select the answer choice that completes each statement based on the information presented in the settings.
NOTE: Each correct selection is worth one point.



Answer:


Explanation:
Box 1: add a virtual network gateway
Box 2: use remote gateways
Each virtual network, regardless of whether peered with another virtual network, can still have its own gateway to connect to an on-premises network. When you peer virtual networks, you can also configure the gateway in the peered virtual network as a transit point to an on-premises network. In this case, the virtual network that uses a remote gateway cannot have its own gateway. A virtual network can have only one gateway that can be either a local or remote gateway (in the peered virtual network).
Reference:
https://docs.microsoft.com/en-us/azure/virtual-network/virtual-network-peering-overview